For relaxing meetings & overnight stays near Frankfurt:
Meetings at the TaunusTagungsHotel
Looking for the perfect location for your meeting or event? Our wealth of expertise and experience will ensure your event is a success. You benefit from our years of experience and flexibility to meet your specific requirements. The hotel's proximity to the Rhine-Main region and easily accessible location make it the perfect place for your event.
The wonderfully peaceful location of the TaunusTagungsHotel in stunning countryside creates the ideal setting for goal-oriented, successful work. You can take advantage of well-deserved rest and relaxation opportunities in the forest right beside the hotel.
Our experienced team will be happy to offer suggestions.
Meeting enquiry
References
MICE near Frankfurt
Advantages of staying with us
To ensure your event is a success:
Within easy reach of everything - only 20 minutes by car from Frankfurt
82 comfortable rooms (up to 104 beds)
13 modern meeting rooms
Hybrid meetings
Personal guest service from our hotel team
All areas have natural light and views of the countryside
Most of our seminar rooms have air-conditioning
Air-conditioned restaurant
Modern technical facilities including WiFi
Customised social programmes
Event catering
Fireside lounge
Recreation area
Bowling alley
Teambuilding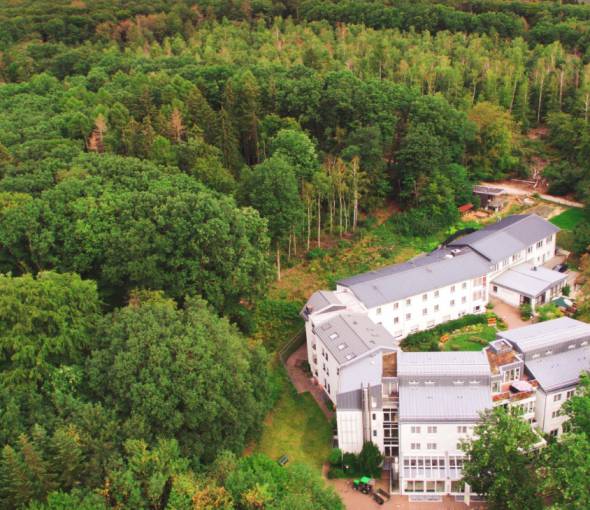 Conference hotel in the Taunus near Frankfurt
Here, you can hold your meeting in the countryside
On the edge of the Friedrichsdorf forest, away from noise and the hustle and bustle.

Combine goal-oriented and successful work with relaxation and recreation in nature.
The forest right on the hotel doorstep invites you to take relaxing walks during breaks and at the end of the day.
Social programme
Reviews from satisfied customers
Testimonials
There's a long list of satisfied guests who have held meetings, seminars, cooking events etc. at our hotel.
Genossenschaftsverband e.V., Verwaltungssitz Hannover
PHV-Der Dialysepartner Patienten-Heimversorgung Gemeinnützige Stiftung, Bad Homburg
FLIR Systems GmbH Infrared Training Center, Frankfurt
Baumer GmbH, Friedberg
REWEMarkt GmbH, Rosbach
Triumpf Motorrad
WISAG Industrie Service Holding GmbH, Frankfurt am Main
Landesvereinigung für Milch und Milcherzeugnisse e.V. Hessen
MS Management-Service GmbH Versicherungsmakler
UD Umwelt-Dienste GmbH
Hessischer Bauernverband e.V., Hesse
HBV Landwirtschaftliche Unternehmensberatung GmbH
Saatbauverband Hessen e.V.
Arbeitsgemeinschaft der Hessischen Tierzucht- und Produktionsverbände
Fortbildungswerk
Arbeitskreis Industrie- und Landwirtschaft Hessen e.V.
Hessen AgrarMarketing GmbH
Verein für Landvolkbildung e.V., Friedrichsdorf
Hessische Landvolkhochschule
Fachverlag Dr. Fraund GmbH
Naturlandstiftung Hessen
Verband Wetterauer Zuckerrübenanbauer e.V.
ORD Oberhessischer Recycling Dienste GmbH
Landwirtschaftsverlag Hessen GmbH
Arbeitsgemeinschaft Hessischer Wasserkraftwerke
Verband Deutscher Agrarjournalisten VDAJ – Landesverband Hessen
Landfrauenverband Hessen e.V.
LBH-Steuerberatungsgesellschaft mbH
Hessischer Waldbesitzerverband e.V.
Hessische Landjugend, Friedberg
Bildungsakademie des Landessportbundes Hessen e.V.
Hessische Lehrkräfteakademie, Frankfurt
... and many others....
Meetings at the renowned conference hotel