Pure indulgence at the hotel
Fine dining & cooking experiences
Our house has an air-conditioned restaurant with a beautiful terrace where hotel and conference guests can enjoy breakfast, lunch and dinner from the buffet.
The TaunusTagungsHotel values regional and healthy cuisine. We'll also be happy to cater to your special requirements. If you follow a vegan diet or have a food intolerance, please let us know beforehand. We'll make sure you enjoy food that is suitable for you.
You can also hold your celebration at our hotel.
At a glance
Food and beverage offer at a glance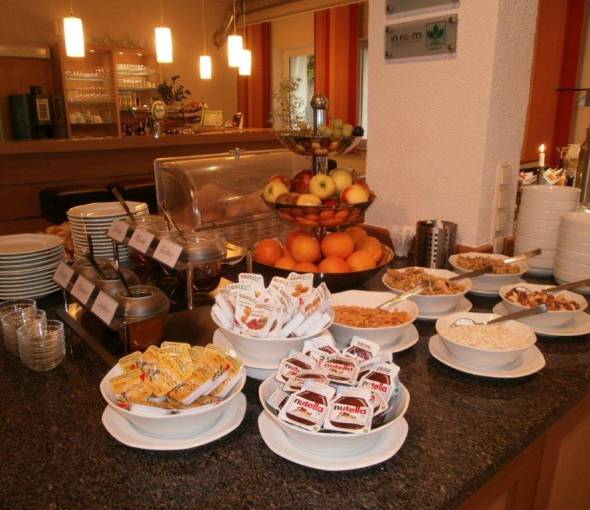 Breakfast
Our hearty and delicious breakfast buffet is the perfect start to the day.
A wide selection of sweet and savoury dishes is available, including sausage, ham, cheese, egg dishes, muesli, cottage cheese, yoghurt, fruit and jams.
Breakfast times:
Weekdays: 6:30 - 9.30 am.
Weekends: 7.30 - 10 am ( from 6:30 during trade fairs)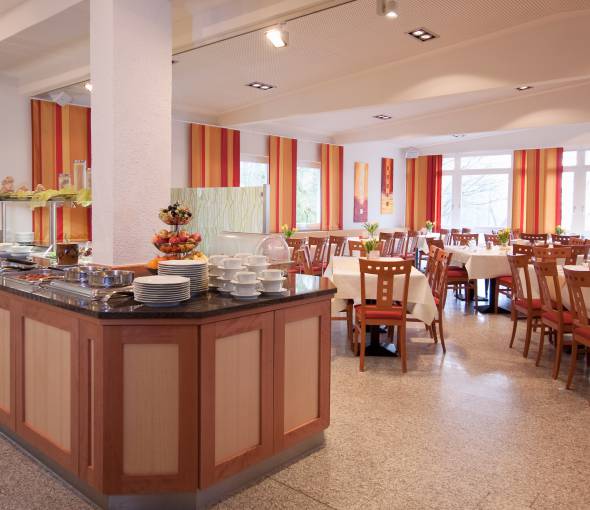 TaunusTagungsHotel
Lunch & Dinner
At lunchtime, our conference guests can restore themselves during the lunch break at our lavish and delicious buffet, consisting of:
Soup of the day (changes daily)
Salad buffet
Choice of 2 menus (1 vegetarian)
Dessert buffet
In the evening, we offer a seasonal 4-course dinner buffet of hot and cold and dishes in our restaurant for conference guests and our individual overnight guests.
Restaurant hours:
Lunch: 12 - 2 p.m
Dinner: 6 - 8 pm (until 9.30 during trade fairs)
Sunday evenings - restaurant closed