Cooking experience, training & product presentations
Rent the cooking experience kitchen
Our 120 sqm cooking experience kitchen offers state-of-the-art equipment and is the perfect setting for a successful event. Two central cooking islands encourage people to cook together and chat. Afterwards, you can enjoy your results, prepared under professional guidance, at a beautifully set table in the adjoining lounge.
You can also hire the experience kitchen for training sessions, a product presentation or private party.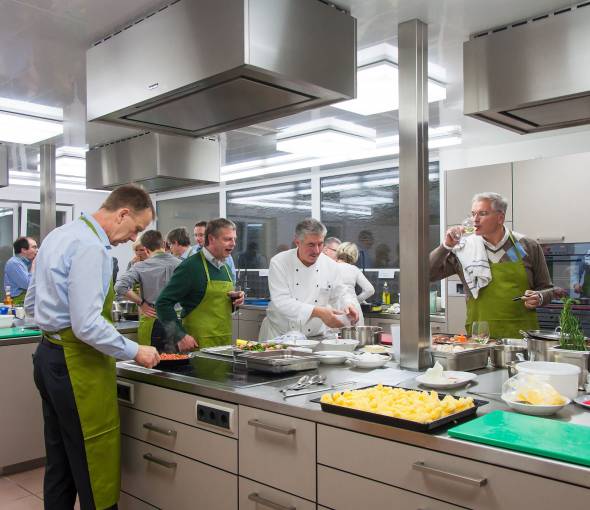 Use our cooking experience kitchen
Prices
Plan and design your own cooking event and hire our cooking experience kitchen for your event. Whether it's cooking together with friends or celebrating a birthday - anything's possible in our modern kitchen with adjoining lounge area.
Prices for the use of our cooking experience kitchen in the TaunusTagungsHotel:
Kitchen hire: €350
Final cleaning: from €75
Operating costs: €30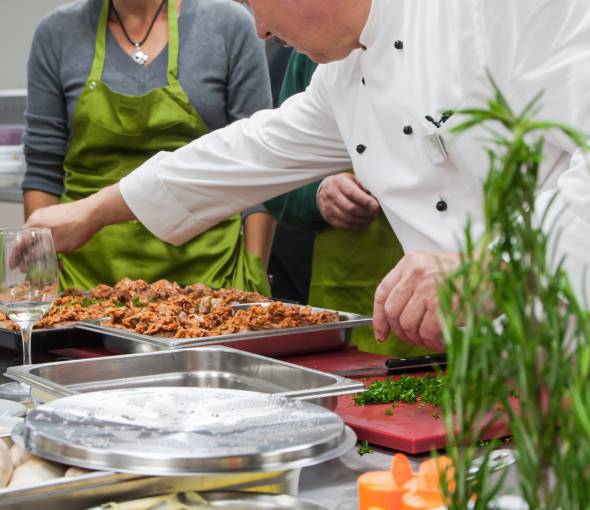 Enquire about dates in our cooking experience kitchen
Contact us
We offer you a number of menus to choose from, but also the option of designing an event and the menu to go with it especially for you. We'll do our utmost to help!
Contact & Enquiries Fun events for groups
Cook first, then enjoy!